Cooling Tower is a device in which heat in the water stream is rejected to the atmosphere on the basis of evaporation. More evaporation is induced by external air force by mean of powered fan. By mixing of warm water with cooled air release the latent heat causing cooling effects to the water. The heat generated in the process industries such a power plant, steel mills, fertilizer plant, Sugar mills, chemical processing, and many other manufacturing companies is cooled down commonly by equipping cooling tower. Cooling Tower is used for refrigeration and air conditioning invariably in commercial building like mall, office complex, hospitals, airports, hotels, etc.
Wetbulb Cooling Towers was started in 1990 as a partnership company to cater the needs of industrial cooling tower requirement. The company become Pvt. Ltd on 1st Oct 1993.
Having started with manufacturing of medium size FRP & Timber Cooling Towers, we have come a long way in industrial cooling tower job. Today we cater to various industries like Sugar, Cement, Textile, Iron & Steel, Chemical, Pharmaceutical, Fertilizer, Food processing etc. and undertake turnkey job.
We Design, Manufacture, Supply, Erection & Commissioning of cross flow & Counter flow cooling tower in RCC, Treated Timber & FRP construction. Apart from the software-based design, we have developed our own design based on the extensive research on the industrial cooling towers, which are in operation in India.
Apart from the supply of new cooling towers, we also undertake modification, Repair and upgrading of existing towers of any make and supply spares for cooling towers. We are very conscious about the quality of material, workmanship and service we provide to all our clients. To ensure the quality and timely delivery of products, we formed associate company to cater to all our needs on time. This also helps us to check labour unrest. Till date we have never faced labour problems in our organization.
Cooling towers designers After 2 decades of services in the industry, we are proud that our clients are satisfied with our Service and we bank on word of mouth for our product. We make sure that none of our client is suffered due to any reason in connection with our job.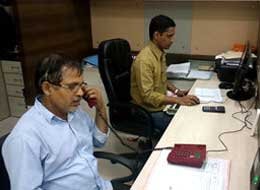 We are registered with "Bhabha Atomic Research Centre for cooling tower job and are in the approved list of Centre for Engineering & Technology (Steel Authority of India), M. N. Dastur & Co. Pvt. Ltd etc." for whom we are regularly carrying out cooling tower jobs.
All components and parts are inspected and tested as per required norms along the line of production to ensure good product quality.
Treated Timber Cooling Towers: We manufacture Natural Draft, Induced Draft Cross Flow / Counter Flow type, Treated Timber Cooling Towers in single cell / Multi cell construction. There is no capacity limitation in multicell design. We have designed and supplied multi-cell tower of 9000 m3/hr capacity, each cell having 2250 m3/hr circulating water and 15°C range at 4°C approach.
Pultruded FRP Cooling Towers: Induced Draft Counter Flow type Cooling Towers in Pultruted FRP Structure are manufactured by us as an alternative material to treated timber. There is no limitation in Capacity since multicell concept is adopted. Non clogging type PVC Splash bars are also equipped as fill media for specific application.
FRP Cooling Towers: Natural Draft / Induced Draft Cross Flow & Counter Flow type FRP Cooling Towers are manufactured by us. Single cell tower capacity is limited to 1000TR. Multi cell concept is adopted for higher capacity. Non clogging FRP Cooling Tower are also manufactured for specific application. Maintenance free stationary micro spray distribution is our specialty.
RCC Cooling Towers: Wetbulb Cooling Towers offers both counter flow & crossflow design Cooling Towers in RCC Construction for large scale / capacity Cooling Applications. Different types and shapes of treated wooden splash bars, PVC honeycomb fills, Asbestos fills, PVC Splash Bars, ETC. are used depending on application.